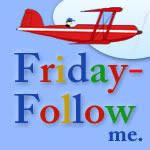 Welcome to the 7th Friday Follow hosted by our awesome hostesses, Crayon Wrangler from
Coloring Outside the Lines
, Christy from
Aunt Crazy's Here Y'ALL
, and Danielle from
A Peek Inside
. Thank you ladies for being willing to host! Please stop by and see these awesome ladies.
We invite you to join us every Friday to get more blog followers and to find many interesting blogs that you like. This is all about sharing and having fun.
We expect you to be on your honor and to have fun. These are only guidelines to make it more enjoyable for you. Here's how YOU can join the Friday Follow celebration:
Link up your blog below.. One Link per blog
Grab our Friday Follow button include on your side bar, or post.. grab the linky information if you want it
Follow the Friday-Follow blog and the hostesses in slots 1, 2 & 3 that have volunteered today to host
Follow the blogs you want, leave comment saying you are from Friday Follow – use common courtesy
No spammers, or xxrated blogs – family friendly
If you need more guidelines about following see
Friday-Follow.com
This list is new each week and closes on Saturday at 11:59pm EST. The links do not carry over. Please link up each week for new participants to find your blogs. It will be visible all week to visit the blogs listed.
Congratulations to our Three Friday Follow Winners!!!
Each week we will randomly draw from three (3) blogs from the links for the next week's Friday Follow, and each blog chosen will be placed in the highly coveted number #7, #8, and #9 position on the blog hop. The first blog chosen will also be given the option of doing an interview which will post on Friday-Follow.com on Thursday the next week. We love your participation and want to give back to you!
You could be next!
Also, let us know how we are doing and what ideas you have by taking our
Survey
.
Spread the word about Friday Follow by grabbing our button for your blog and linky and come celebrate again every Friday. Feel free to also send out a tweet, blog, stumble or share the news in your own special way!
If you are interested in being a sponsor for Friday-Follow, please fill out the sponsorship form
here.
Today's sponsor is Tiffany
from
Fashion in the Forest
. She is offering a Zombie Candle from her Etsy shop- at
http://www.etsy.com/listing/46556500/pain-de-banane-8oz
.
It's an 8 oz. banana bread scented candle. All Zombee Candles are made with 100% soy wax – no paraffin! Cotton, no-lead wicks and non-diluted fragrance oils make burning our candles a clean and wonderful experience!
Have a product to promote?
Become a sponsor

Got a meme or to promote?
LIST YOUR LINKY!/ See the Linky Listing

Got a giveaway going on?
List it here
Advertise on our site-
learn how here
NEW! If you are
hosting a Friday Meme-
be sure to list it on the Friday Meme Linky below.
Also!
Join us for our new weekend comment club!
Thanks so much for your support and Happy Commenting!
I will be out of town for the weekend. Please be assured that I will read every comment that I am left while I am gone and will be visiting blogs of my visitors when I return on Monday.
I already have my camera packed and I'm going to be taking pics! Have a great weekend and I hope that you are blessed by something spectacular!