Today I am 33 years old young. Thirty-three years. Wow. I remember when I was a kid I thought 33 was old. But I don't feel old. Well, parts of me do. ;-)
So what are my special birthday plans for today? Cleaning house, preparing to leave and packing. Oh and a trip to the grocery store and library. But don't worry, that doesn't bother me. I don't expect grand celebrations for my birthday.
The best thing that I can get for my birthday is just to have a nice day with hubby and kids, no fighting, no problems and just enjoy our time together. What more could a mother really ask for? Well I suppose the dishes washed and the garbage taken out for me wouldn't hurt......
We are taking another trip over by Lake Chelan again this weekend. Both Greg and I are a little nervous because the rattle snakes should be out this time, it's warm enough. Actually, plenty warm enough. We have just had our first day of summer here in Western Washington, yesterday. I am not sure how hot it actually got, but I think I saw 88 degrees. That is quite a jump from the 65 degree highs that we've been having for this so-called Summer. Tomorrow, the temperature at our destination is going to be around 96 degrees! Quite a drastic change in temperatures to me.
I have some exciting news to share! I follow the meme Friday Follow to find more blogs to read and to help get my blog out there to other readers. I don't need a huge follower list, and I don't really want any followers who follow me just to get me to follow them. I want readers! This week for Friday Follow I am the #3 slot for hosting! That means on all of the blog hop link lists, my blog will be the 3rd one seen! At this moment, there are 432 followers on Friday Follow. That is getting my blog out there!
Next Thursday, my blog will be the blog that Friday Follow does a showcase on to tell others about my blog. That is like jump up and down for joy excited there! I also get to use this new button on my sidebar now...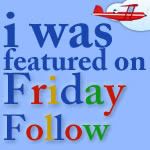 So make sure to watch for that! To get the blog directly sent to your dashboard follow this blog, Friday Follow.