I just finished reading this book last night. Winnie by Dandi Daley Mackall is a Christian horse fiction for young readers. The character, Winnie Willis, is a 12 year old lover of horses. She knows her stuff to!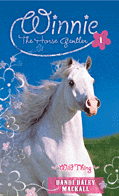 There was one disturbing part that I felt should have been kept out. When Winnie takes a job answering questions about horses through email, she decides to open up to a customer called Hawk. She tells this stranger more than I think she should at 12 years old.
Other than that part, the book was good. I can't say excellent, I have read better horse books. I like that there were Bible verses used in the book and references to how much God loves us.
All in all, this is a book I will keep for my daughter to read. We may even have to get the rest of the series!
Disclaimer: This book was given to me by Tyndale to read and review with my own honest opinion.