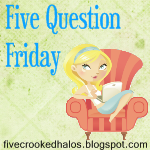 This morning I am linking up with Mamma M. and her blog
My Little Life
for 5 Question Friday. If you'd like to join up also, click on her blog name above and link up!
This morning's questions are:
1. If you had a $1000 to donate to a charity, which would you choose?
I think I would donate it to the Breast Cancer Society. My MIL had breast cancer and there is a risk that my children will get it. I would like to donate so that maybe there will be a cure if my children do get it and to help others that have it.
2. Snow days: Do you welcome them happily or are they a pain?
Well being that we homeschool, snow days don't matter too much for us. It is a good time for the kids to play outside for a short while and they sure enjoy it.
3. What talent do you wish you had and why?
I wish that I was a better writer because I love to write. I'm not really that great at it.
4. Are you a news/politics/celebrity gossip junkie?
None of the above.
5. What is your favorite cocktail?
When I did drink cocktails, I suppose my favorite was a margarita. The virgin ones are still good too!