There is an great book out by Sarah Mae that you just
have to have
! It's called
31 Days to Clean Having a Martha House the Mary Way
. Go to that link to check it out if you'd like. You can trade a tweet for a chapter, or just break down and pay $4.99 for a whole copy!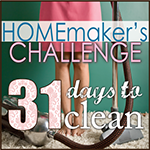 So I have started this challenge. I have started later than most, but I'm all good with that because I'm working at my pace anyway.
Last week, I believe it was Thursday, I did Day 1. I wrote my mission statement. I think I will keep that for another blog post though. I still haven't made it pretty like the book says to. But I was thinking of doing that with my PSP. It was very easy for me to get all of the supplies that I would need too because I already had it or make my own. The only thing that I needed to buy to clean with was the lemons.
This evening was Ladies Spring Event at church. I told myself and my girlfriend that I couldn't go until I did my Day 2. That included cleaning the inside of my fridge and freezer. And I did it! I had it all done before it was time to go. And if I do say so myself, it looks
really
nice! I even took pictures.....
So here is my before fridge and freezer before:
And here is my after pictures: