http://www.justfollowingjesus.com/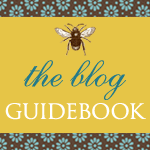 I just found this tonight, on another blog, thank you Elizabeth at
Just Following Jesus in my Real Life
. So I checked the site out and it appears that you can sign up your blog to be in this guidebook of blogs. How cool is that?!
The even neater thing was that if you blog about the Blog Guidebook then you get to put your blog button in the guidebook for free! But it's only a limited offer! So hurry!
Check it out
right here
. Hurry, don't delay!
Someone needs to hire me to sell stuff.