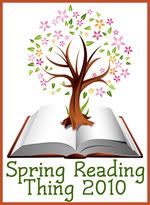 Click on the button above to check out the original blog and join in the fun!
I happened upon a blog called Callapidder Days and decided to join the Spring Thing Reading 2010 reading list. You can click above to read the full details. I finally decided upon what books I want to include in my list and here it is:
March: Finish Love Finds You in Lonesome Praire Montana by Tricia Goyer and Ocieanna Fleiss
April: Finish Reading a book I started a while ago but wanted to read something a little bit lighter, Inside the Revolution by Joel C. Rosenburg
Read-1. Pathways to Purpose by Katie Brazelton

DNF
2. Tortured for Christ by Richard Wurmbrand
3. The War of the Worlds (Reader's Digest Condensed version) by H. G. Wells ( I read these sometimes because I already have them in my house and this way I will know if I want to read the full story)
4. A Firm Foundation by Dr. David H. Peterson
May: Read-1. Do You Mind if Your Kids Don't? by Bill Rice III



2. The Strange Case of Dr. Jekyll and Mr. Hyde by Robert Louis Stevenson (Reader's Digest Condensed Version)
3. Candle in the Darkness Book 1 of Refiner's Fire series by Lynn Austin
4. The Adventures of Sherlock Homes by Arthur Conan Doyle (Reader's Digest Condensed version)

DNF
5. Reader's Digest Book-The Hunchback of Notre Dame by Victor Hugo; Great Cases of Sherlock Holmes by Arthur Conan Doyle; Abe Lincoln Grows Up by Carl Sandburg; Lost Horizon by James Hilton

DNF
June: Read-1. A Woman After God's Own Heart by Elizabeth George (for 2nd time. I think every Christian wife should read this book once a year, at least)
2. Captains Courageous by Rudyard Kipling (Reader's Digest Condensed version)
3. Emma by Jane Austen
4. The Boxcar Children Book 1 by Gertrude Chandler Warner
I didn't finish 4 of those books. I am replacing them with these:
A Summer's Secret by Kathleen Fuller
Organic Gardener's Composting by Steve Solomon
Jahanara, Princess of Princesses by Kathryn Lasky
A Princess Found by Sarah Culberson and Tracy Trivas
A lot of condensed versions on my list right now. Oh well. I still want to read them. I am sure that there will be a few on my list for 2010 that is not on this list. But that is because I read books at random from the library, read for home school both for myself to teach and learn and to read to the kids. I am currently keeping a list of books that I have read in 2010 along with the dates that I read them. I have been keeping a list for 3 years now and I keep refining my list better each year. I will be adding that to my blog here shortly.