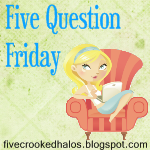 Questions for Friday, June 11
th
:
(Special thanks to
Kate
,
Jill
(and Sarah, too!),
Robin
,
Luis
, and
Pam
for their question suggestions! Wanna be linked in a future 5
QF
?
C'mon
over to my community and offer up your best! Had some good ones come in this week...keep 'em coming!)
1.
What do you think makes a good friend, or friend
ship
?
I think good friendships are made out of loyalty, honesty, tolerance, patience, nonjudgmental and shoulders to cry on
2. What is the last thing you bought & later regretted?
The shirts that I bought at the garage sale today, lol
3. Have you ever had a prank played on you?
Yes I have, and personally, I'm not fond of them
4. What is your favorite theme park?
I've never been to one...how sad
5. Have you ever seen someone else give birth?
No I haven't. I wanted to see my sister give birth, but she's all the way across the US and I couldn't be there.